Glen Josselsohn
Contemporary Artist
---
Glen Josselsohn is a renowned artist living in Jerusalem, Israel. Glen's artwork has gained recognition both locally and internationally, thanks to its distinctive and contemporary style. Glen's talent and creativity have allowed his art to be showcased in galleries worldwide, solidifying his presence in the art world. He has participated in prestigious events such as Miami Basel, where he has further established himself as an accomplished artist.
Glen's artistic prowess has not only captivated art enthusiasts but has also caught the attention of exclusive hotels. His work has been featured on various lifestyle television programs, showcasing the wide appeal and versatility of his art.
Critics and art enthusiasts are drawn to Glen's work due to its timeless nature and universal appeal. His art exudes energy and movement, intriguing viewers and leaving them curious about the stories told within his pieces. Glen's unique painting style sets him apart from other artists, allowing him to create a distinct visual language that resonates with a wide audience.
The timeless quality of Glen's art makes it a valuable investment for establishments looking to shape their identity for years to come. The ability of his work to transcend trends and speak to people from different backgrounds and cultures has made him a sought-after artist in galleries, hotels, and the broader creative sphere.
Glen Josselsohn continues to captivate viewers with his dynamic and imaginative artwork. His contributions to the art world, along with his ability to merge aesthetics with contemporary design, establish him as a prominent figure in the artistic community. As he continues to create, Glen's art will undoubtedly leave a lasting impact on those who encounter it.
View My Work
Contact Me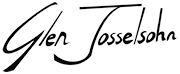 ''Glen Josselsohn's  signature art offers the perfect solution to complement a modern and chic room''  "The way I paint is unique! My Art is abuzz with energy, movement and colour. I enjoy stepping into a meditative state, a state of 'non-thinking'. It helps me to relax. Whereas the big commissions are exciting and challenging, my favourite pieces to work on are those around the 2m x 1m, 1.5m x 1.5m dimensions. They are fun and engaging. My inspiration comes from my travels, visiting local and international galleries, taking photos and exploring and visiting wildlife reserves. I translate my experiences to canvas and paper. Painting with acrylics is my preferred medium as they dry quicker than oils. I like that I can also create texture and dimension as they can be applied thickly. I enjoy acrylic paint as I am able to able patterns and texture to it.